News for Seneca County Veterans
Seneca County Honor Bus Trip
It has been brought to our attention that there will be a Seneca County Honor Bus Trip taking place October 28-30, 2022. The first 40 eligible applicants, who reside in Seneca County may be selected to participate free of charge in the trip. Applications or more information can be obtained by contacting Toby Colbert at 419-722-6972 or Elaine Hess at 419-282-1369.
Applications are not available through this office.
PACT ACT
NOW THAT PACT ACT HAS PASSED, HOW SOON WILL VETERANS SEE THEIR BENEFITS?
ALL VETERANS WHO LEFT THE RANKS IN SUMMER 2017 OR LATER WILL HAVE THEIR HEALTHCARE ELIGIBILITY AUTOMATICALLY EXTENDED. VETERANS WHO LEFT BETWEEN SUMMER 2014 AND SUMMER 2017 WILL BE ABLE TO APPLY FOR ADDITIONAL YEARS OF HEALTH CARE COVERAGE, ENDING AT 10 YEARS AFTER THE DATE THEY SEPARATED.
THE BENEFITS FOR COMPENSATION CLAIMS FOR INDIVIDUAL ILLNESSES WILL TAKE LONGER TO PROCESS. THE LAW CALLS FOR VA TO ADD 23 NEW CONDITIONS TO THE LIST OF BURN PIT PRESUMPTIVE ILLNESSES INCLUDING ASTHMA, CHRONIC BRONCHITIS AND BRAIN CANCER BUT THOSE WILL BE PHASED IN OVER THE NEXT THREE YEARS.
PLEASE CALL OUR OFFICE IF YOU HAVE QUESTIONS OR WOULD LIKE TO INVESTIGATE BENEFITS.
If you receive a suspicious email from the Department of Veterans Affairs, DO NOT open the email or click on any attachments or links. VA does not send emails asking for personal information, threatening emails, or emails claiming to take adverse actions on claimants or beneficiaries (jail or lawsuits). If you receive any of these emails or are in doubt about any communications appearing to be from VA, please contact VA directly at 1 (800) 827-1000.
Phishing is a type of cyber-attack where the attacker sends a message designed to deceive a person and convince them to reveal sensitive information to the attacker. It is the most common means attackers use to gain unauthorized access to a device to obtain sensitive information.
Phishing emails can come from an unfamiliar sender or familiar looking sender with an email address that is off by a few letters. Additionally, phishing emails can include large or "too good to be true" offers or attachments.
The VA takes the security of Veterans seriously. Always reach out to our office if you have questions about correspondence from the Department of Veterans Affairs.
VIETNAM COMMEMORATIVE DINNER
There will be a Vietnam Commemorative dinner held on October 26, 2022. Please call our office to make a reservation. If you served or have lost a loved one who served during the Vietnam war, please consider attending a Commemorative Dinner. There will be future dinners.
ADMINISTRATIVE ASSISTANT
The Seneca County Veterans Service Commission has hired Sarah Hall as the new Administrative Assistant. She will be able to assist and direct you in gathering documents and information to provide to the service officer for your appointments and also assist with the completion of financial assistance applications.
NEW SERVICE OFFICER
The Seneca County Veterans Service Commission has hired a new Service Officer. Kenzie Mitchell, US Army Veteran and Tiffin native has begun training to attain full accreditation with the ODVS and NACVSO in addition to many Service Organizations. We are happy to have her on board!
2021 Seneca County Veteran of the Year
Michael Nye of Fostoria OH has been selected as the 2021 Seneca County Veteran of the Year. The presentation of his award took place at the AmVets Post 48, 1909 S St. Route 100, Tiffin OH on November 10, 2021. A social hour began at 5:00, dinner was served at 6:00 followed by a short program.
2020 Seneca County Veteran of the Year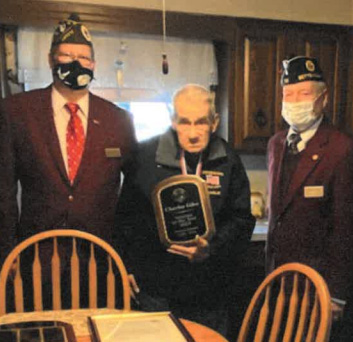 Charles Giles, the 2020 Seneca County Veteran of the Year, was honored posthumously on August 12, 2021 at a dinner in his honor. It was held at the AmVets post in Tiffin, OH. Charles was presented his awards in person during 2020 prior to his passing, but Covid prevented the formal dinner from taking place until recently.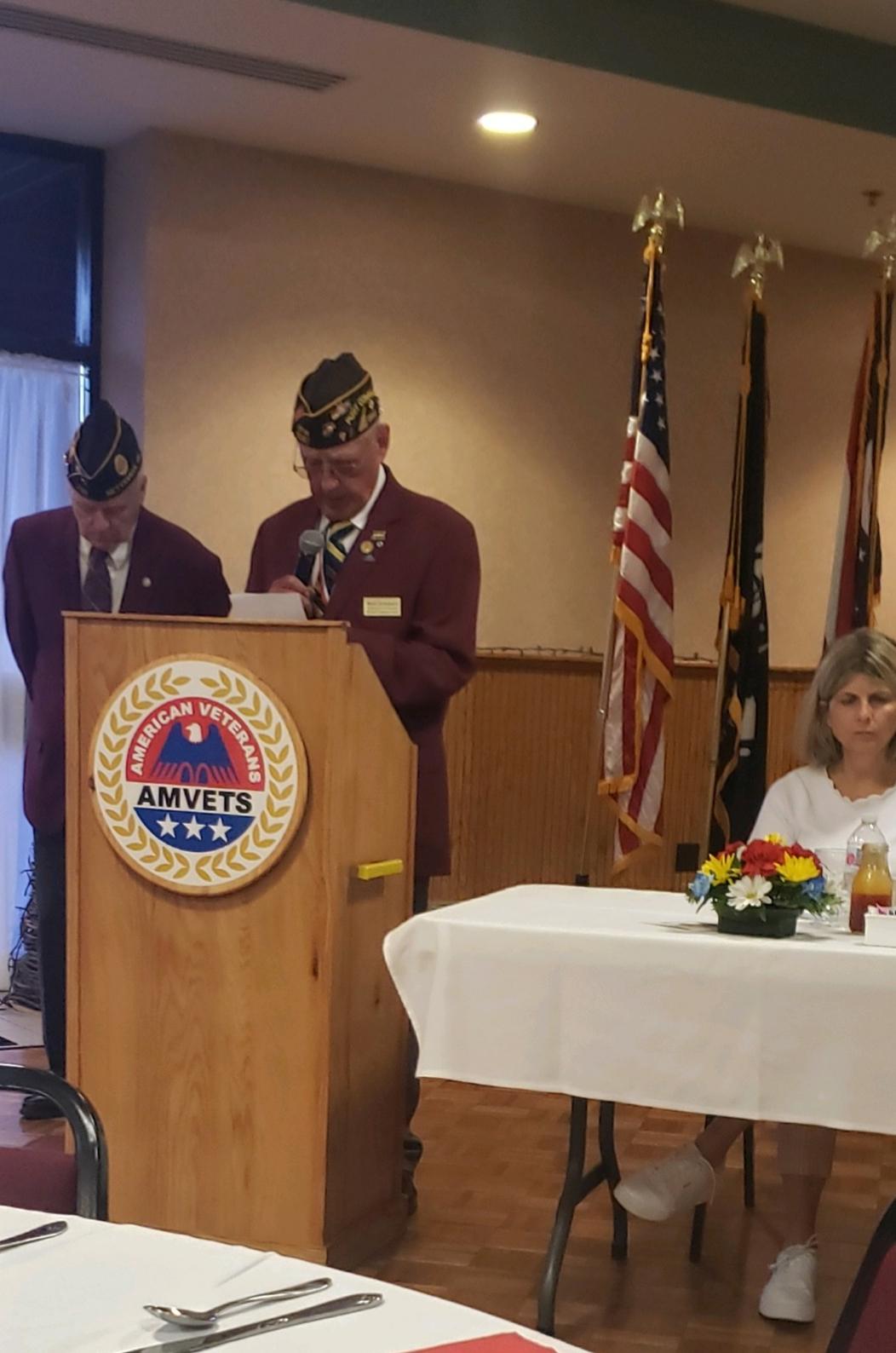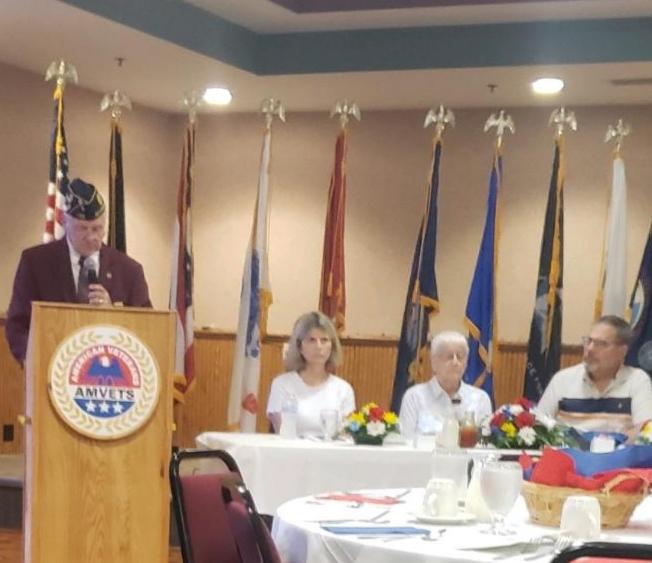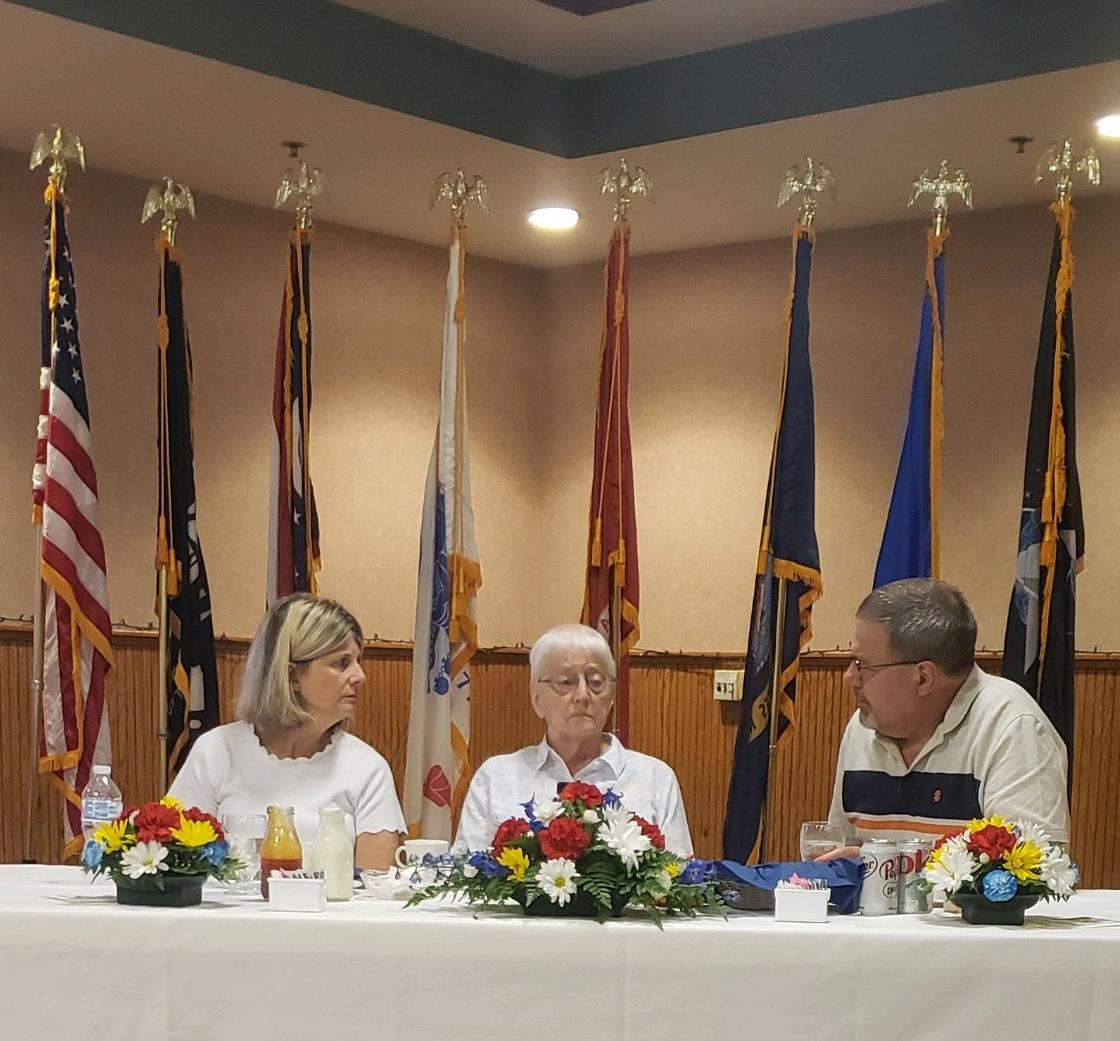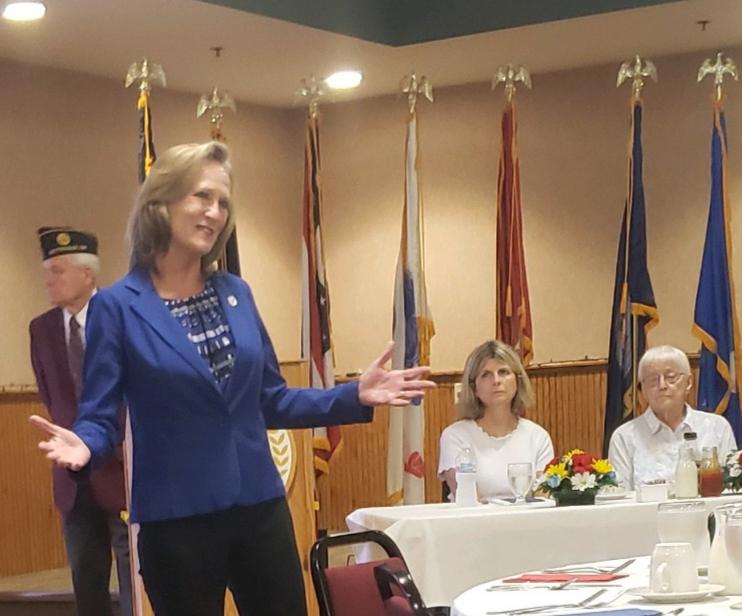 Blue Water Navy veterans who Previously filed for Compensation Benefits
A Federal court ruled that the Department of Veterans Affairs must pay retroactive benefits for Agent Orange related health problems to Navy veterans who served on ships off Vietnam's coast. These payments will honor the terms of a 1991 settlement between the VA and veterans. Blue Water Navy veterans do not need to file new claims to request benefits; veterans who filed Agent Orange related claims in the past will now have those claims automatically reviewed. (Note this is a change from the Blue Water Navy Vietnam Veterans Act that Congress passed in 2019, which required Blue Water veterans to file a new claim to be considered for benefits.)
Amendment to Dates of In Country Vietnam Service
SEC. 2001. REVISION OF DEFINITION OF VIETNAM ERA FOR PURPOSES OF THE LAWS ADMINISTERED BY THE SECRETARY OF VETERANS AFFAIRS.
Section 101(29)(A) of title 38, United States Code, is amended by striking "February 28, 1961" and inserting "November 1, 1955".
For veterans who served in the country of Vietnam during this newly established time period it opens eligibility for VA benefits they may not have been eligible for previously.
Please reach out to this office for direction when dealing with claims issues regarding this change as there are VA laws regulating the application of this change.
SCAMS
With our daily lives becoming almost completely digital, scammers are working overtime trying to steal your personal information!! Remember that The Social Security Administration, your banking institution, Unemployment and The Department of Veterans Affairs will all send you information by USPS, or an e-mail you have established with them. They normally don't call on the phone. Please be aware of any suspicious inquiries regarding your personal information.
The Social Security Administration will not suspend your social security number (this example is from an actual call my spouse received twice).
When a real financial institution identifies what it believes are suspicious and unauthorized charges on an account, it will text or email the account-holder and ask them to verify the purchases not call on the telephone! If the account-holder says any of the charges are illegitimate, the old card will be immediately canceled and a new one will be issued. The financial institution has no need to ask for the CV2 security code on the card because it already has the information.
If a caller from the bank tells you they need the CV2 code to freeze the card, you can bet it's a scam.
If you have doubts, hang up and call your bank, the SSA, or the VA directly!
Flag City Honor Flight
We have received word that Flag City Honor Flight is resuming flights! Please be sure to submit an application if you would like to travel along with a group of veterans who served just like you to visit the memorials and monuments in your honor. You may obtain an application online or from our office, just give us a call!
Ohio War Orphans Scholarship
The Ohio War Orphans Scholarship Program awards tuition assistance to the children of deceased or severely disabled Ohio veterans who served in the armed forces during a period of declared war or conflict. To receive War Orphans Scholarship benefits, a student must be enrolled for full-time undergraduate study and pursuing an associate or bachelor's degree at an eligible Ohio college or university. Ohio residency is required. Applicants must be under the age of 25. Scholarship benefits cover a portion of instructional and general fee charges at two and four-year public institutions and a portion of these charges at eligible private colleges and universities. The application deadline is May 15th of every year. The deadline for the 2021-2022 academic year is May 15, 2021. A complete application MUST be received or postmarked by May 15th in order to be considered for the scholarship for the 2021-2022 academic year.
Transportation to VA Medical Appointments
There have been changes made to the transportation schedule for appointments at the VA Medical Center in Ann Arbor. Beginning on January 1, 2020 transportation will be provided Monday through Friday. We do ask that every effort be made to make your appointments between the hours of 9:00 am and 1:00 pm. This office understands that some of the specialty care clinics will not be able to schedule appointment times in these parameters and those appointments will be addressed by staff on a case by case basis. Be sure to notify the Transportation Coordinator at least two working days prior to your need of transportation. Please be patient at this time.
VA Dental Care
In the office we often hear the question "Why can't I receive dental care through the Department of Veterans Affairs healthcare system?" This is the answer; All Veterans are not eligible for dental services per Title 38 United States Code (U.S.C.) §§1710(c), 1712 and Title 38 Code of Federal Regulation (C.F.R.) 17.160 – 17.166. Eligibility includes, Prisoners of War, Veterans rated 100% service-connected disability, or Veterans who received dental injuries due combat or service trauma. The good news is if you are not eligible, Veterans enrolled in VA health care may purchase dental insurance at a reduced cost through the VA Dental Insurance Program (VADIP). Insurance providers include Met-life and Delta Dental. Contact your clinic to inquire about enrollment.
Online Exchange shopping authorized for Veterans
Thousands of veterans are eligible to shop online at military exchange websites (started on 11 November 2017) thanks to a policy change by the Defense Department.
The initiative, which was first announced in January 2017, will apply to veterans who have received honorable discharges and can verify their status by using the website VetVerify.org.
After being verified, participants will be eligible to shop tax-free at any of the four sites operated by the Army & Air Force Exchange Service: MyNavyExchange.com, MyMCX.com, ShopCGX.com, and www.ShopMyExchange.com. (However, they will remain ineligible to shop inside physical exchange locations.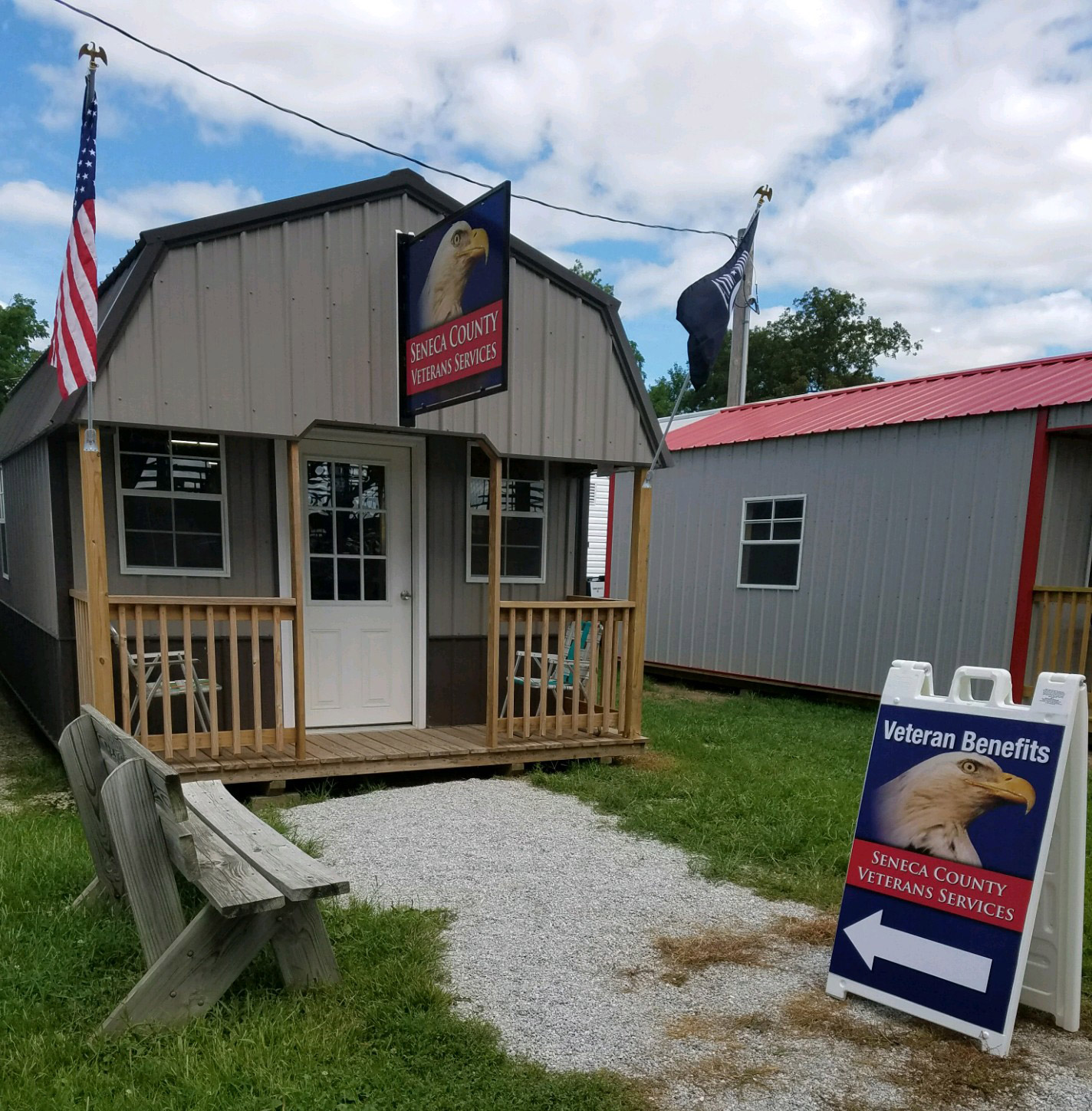 Our outreach building
Kuwait Liberation Commemorative Books
Are you a veteran of Desert Storm? Would you like to have a book honoring your service in Desert Storm? Please stop by our office and we will happily provide you with one. If you have never visited our office please be sure to bring a copy of your DD Form 214 with you.
PREPARE YOUR LOVED ONES
Sometimes difficult conversations are very important to have with your loved ones. No one wants to think about it, let alone discuss it, but helping your loved ones to be better prepared for when you die is one of the most important conversations you can have. Ensure your loved ones know where to locate your discharge papers and any insurance policies you may hold. Talk about your burial wishes and possibly pre-arrange for your burial. When the day does come, your loved ones will probably not be thinking clearly and this type of preparation could reduce some of the stress during this time for them. Also, please be sure to instruct them to contact this office to investigate any benefits they might be eligible for based upon your military service.
VA Benefits Assistance - Do Not Pay
It can be difficult navigating the government bureaucracy to obtain veterans disability and other benefits, but all it should cost you is time, not money. Recently veterans, active service members and their families have been encouraged not to pay for assistance to file paperwork that they can get free help with. "Through the years we have seen businesses and individuals who offer 'free' help applying for veterans benefits, but in the end they issue a bill under the guise of financial planning or some other service rendered," Brig. Gen. Tony Carrelli, Pennsylvania's adjutant general, said in a consumer advisory last month. "Understanding and learning about benefits can be challenging at times, and the last thing our veterans and their families need to worry about is an unexpected charge for something that should be provided for free," Carrelli said. Veterans can obtain free help or guidance from County Veterans Service Offices, the state Department of Military and Veterans Affairs, (ODVS) and service organizations such as the American Legion, VFW and Disabled American Veterans. Disability benefits are among the most well-known benefits offered by the federal government. But there are other benefits as well, some of which can be obtained at the state and local level, such as real estate tax exemption for 100 percent disabled veterans. We are happy to help you apply for any and all benefits that you may be eligible for.
Camp Lejeune Presumptive Conditions
The Department of Veterans Affairs' (VA) regulations to establish presumptions for the service connection of eight diseases associated with exposure to contaminants in the water supply at Camp Lejeune, North Carolina, are effective as of 14 MAR 2017. They will begin processing new compensation claims from veterans exposed to toxic water at Camp Lejeune, North Carolina. "Establishing these presumptions is a demonstration of our commitment to care for those who have served our nation and have been exposed to harm as a result of that service," said Secretary of Veterans Affairs, Dr. David J. Shulkin. The presumption of service connection applies to active-duty, reserve and National Guard members who served at Camp Lejeune for a minimum of 30 days (cumulative) between Aug. 1, 1953, and Dec. 31, 1987, and are diagnosed with any of the following conditions: Adult leukemia, Aplastic anemia, and other myelodysplastic syndromes, Bladder cancer, Kidney cancer, Liver cancer, Multiple myeloma, Non-Hodgkin's lymphoma and Parkinson's disease. The area included in this presumption is all of Camp Lejeune and Marine Corps Air Station New River, including satellite camps and housing areas. This presumption complements the health care already provided for 15 illnesses or conditions as part of the Honoring America's Veterans and Caring for Camp Lejeune Families Act of 2012. The Camp Lejeune Act requires the VA to provide health care to veterans, who served at Camp Lejeune, and to reimburse family members or pay providers for medical expenses for those who resided there for not fewer than 30 days between Aug. 1, 1953 and Dec. 31, 1987.
If you have questions or would like to file a claim for any of the above conditions call our office, we will be happy to assist you or your family members with the process.
Arlington National Cemetery Eligibility Restriction Proposal
An advisory committee suggests eligibility restrictions as a solution to the cemetery's capacity problems. Retiree eligibility, active duty requirements, and spatial and fiscal constraints are all topics of discussion for delaying maxing capacity at Arlington National Cemetery, Va. Without eligibility changes, there won't be space for anyone – let alone those meeting exceptional eligibility standards – within the next few decades. Potential courses of action going forward are taking more solid form. The Arlington National Cemetery Advisory Committee held a public meeting this week to provide an update on burial eligibility recommendations and cemetery capacity forecasts. The advisory committee is tasked with finding solutions to the rapidly shrinking available space at the cemetery and suggesting ways to prolong the maximum capacity point as far into the future as possible. Current rules permit anyone with an honorable discharge and with at least one day of active duty service to be interred or in-urned at ANC. That's a less rigid eligibility standard than used for other veteran cemeteries, which can require at least 24 months' service. One course of action is provision to adopt the 24 months' active duty requirement. Other potential courses of actions could include changing of eligibility criteria to include only those service members killed in action and/or recipients of the Medal of Honor, however, if approved, those restrictions would not be implemented for another 10 to 20 years. The committee intends to do a thorough analysis of possible courses of action, after which a final decision is to be provided to the secretary of the Army. The details of that analysis will come in a future report. It will be interesting to see what changes are implemented for Arlington National Cemetery.
The VA operates 135 national cemeteries. Currently, burial in a VA national cemetery is open to all members of the armed forces and veterans who have met minimum active duty service requirements, as applicable, and were discharged under conditions other than dishonorable. Members of the reserve components of the armed forces who die while on active duty or who die while on training duty under certain circumstances are also eligible for burial, as are service members and former service members who were eligible for retired pay at the time of their death. A Veteran's spouse, widow or widower, minor children, and, under certain conditions, unmarried adult children with disabilities, may also be eligible for burial. Eligible spouses and children may be buried even if they predecease the Veteran. VA provides the gravesite, grave liner, opening and closing of the grave, government headstone or marker, U.S. burial flag, Presidential Memorial Certificate and perpetual care of the gravesite at no cost to the family.
VA Prescription co-pay changes
Effective February 27th, 2017 the co-payment regulations and associated cost for Veterans filling outpatient medications prescribed to treat non-service connected conditions will change, establishing three classes (tiers) of outpatient medications. Each tier will have fixed co-payment amounts and will only vary depending upon the class of outpatient medication in the tier. Tier 1- Preferred Generics will cost $5 for a 30-day or less supply. Tier 2 Non-Preferred Generics will cost $8 for a 30-day or less supply. Tier 3- Brand Name -$11 for a 30-day or less supply. Please be sure to check with your provider to ensure that you are being billed appropriately for your prescriptions to avoid any future unexpected debts.
Flag Cases
The Seneca County Veteran Service Commission tries to ensure that spouses of deceased veterans of Seneca County receive a flag case for the burial flag. Cases are not provided to other family members, however cases are available for purchase at various merchants in the area.
Hepatitis C
Hepatitis C is a liver disease. It can lay dormant for years with no signs or symptoms. It is commonly transmitted by exposure to contaminated blood. Veterans have three times greater risk of having Hepatitis C since exposure could happen during training or in combat. Good news, there is a new treatment that will cure the disease. If you are concerned about having been exposed or know you have Hepatitis C please contact your Primary Care Physician.
Ohio Veterans Bonus
The deadline to apply for the Persian Gulf (8/2/1990-3/3/1991) or Iraq (3/19/2003-12/31/2011) bonus has expired.
Veterans or Active Service Members who have not received a Bonus for service after October 7, 2001 (in locations: Anywhere else in the World, or service in Afghanistan) may apply. An undeleted copy of discharge papers or other documentation for active duty service members, and an Ohio driver's license will be needed for the application. Please call our office if you have questions or would like to set an appointment to apply. You may also visit the Ohio Department of Veterans Services website for more information.
SUICIDE PREVENTION
Veteran suicide needs to end. At the same time, it is apparent that the VA Suicide Hotline is being criticized for poorly answered calls in the news. Please remember that this hotline is only one avenue to help. Please remember that you can contact Military One Source (800-342-9647) and also your local Vet Center. For the veterans who reside in Seneca County the nearest Vet Center is in Toledo and the telephone number is (419) 213-7533. Please remember that if you are at the end of your rope, tell someone that you need help.
Future Seamless Transition
A 2015 U.S. Government Accountability Office (GAO) report recommended that the Department of Defense and the Department of Veterans Affairs work together to create a seamless transition for veterans leaving active duty service. It appears that there is no system capable of supporting the clinical management and operations at the same time due to different IT systems. A VA electronic record that is fully inter-operable with DOD is years away. The VA is hopeful that a system might achieve this by mid- 2018 with advancements in IT. Until this time, veterans should ensure that they obtain a complete copy of healthcare records whether on disc or paper and keep them safe.
OHIO PROPERTY TAX HOMESTEAD EXEMPTION EXTENDED TO VETS ON IU
Effective March 23, 2016, the homestead exemption for veterans with total service connected disabilities and their spouses has been extended to those veterans who are being paid at the 100% rate due to individual unemployability. Veterans must have been discharged under honorable conditions and must provide the Auditor's office that document along with an official DVA letter specifying their compensation or individual unemployability rating. We would recommend that any of you who fall into this group contact our office first, and we will make sure you have what you need before you go to the auditor's office to file for the homestead exemption.
VA BENEFIT OVER-PAYMENTS
VA recently lost a case involving recovery of more than $38,000 from a veteran who was in prison. The veteran properly notified VA of his situation, several times in fact, during his incarceration. His compensation payments continued, and it was only after he was released from prison and home with his 4 year old son that VA decided to recoup the money. The veteran was lucky to locate a veterans attorney, who appealed the decision to recoup the money, provided proof the error was on VA, not the vet. Unbelievably, VA still tried several times to recoup a debt that occurred because of its own ineptitude. Finally, the situation was resolved, but now the veteran has legal bills that VA is refusing to pay. If any of you ever are notified of an over-payment by VA - call us ASAP! DO NOT TRY TO DEAL WITH VA on your own! Chances are, you will lose if you do. BTW – the head of the VA branch that does over-payments said that the whole situation happened because "VA is swamped". Records show that VA improperly pays out $24 million to 2,200 incarcerated veterans annually that then must be recovered. Seems like there should be an easier way.
MILITARY RETIREES – HEADS UP
Two things going on right now that affect retirees. First, know that even if you (and/or your spouse) continue working beyond the age of 65, you MUST sign up for Medicare Part B at age 65 or you will lose TRICARE benefits. TRICARE benefits end at age 65, and you are converted to TRICARE For Life ONLY if you have Medicare Parts A and B. So, if you want, keep working, but get hold of Social Security and get signed up for Medicare B at age 65.
Second, there is a new scam going on that affects retirees. You may receive a letter, allegedly from DFAS in Cleveland, saying the agency is being audited and they want to verify your information. If you get one of these, bring it to our office immediately – DO NOT RESPOND TO THIS LETTER. Not sure what somebody is up to here, but don't play their game.
DONATION SCAMS AGAIN
Not to knock any particular agency or organization - but, be very careful with your donations. You should NOT be coerced, or subject to forceful solicitation. You have every right to ask for information regarding their home office locations, points of contact, and annual reports that are required by law and which show where the money has gone. You are free to donate to whomever you choose - but, you are also free not to donate.
Our recommendation would be this - keep your donations LOCAL. The VA Volunteer Services programs at Toledo and Ann Arbor use donations to provide items the VA budget does not cover for patients, both in patient and out patient. The Ohio Veterans Home in Sandusky is another excellent choice for donations, the recreation funds are obtained only from donations, no state monies are used for activities. And, don't forget our Funeral Details - they could also use donations, as they are constantly replacing uniform items, outfitting new members, replacing equipment, and so on.
Bottom line - think about it - doesn't it make sense to donate to an agency that doesn't take a cut of anywhere from 15% to 86% for themselves?? We think it does..........
MILITARY RETIREE ID CARD ISSUE
Retirees and/or dependents who have a military ID card with an "Indefinite" expiration date are being encouraged to have the cards updated at their convenience. In 2011, DOD ended the practice of having the sponsor SSN on the cards, but did not require replacement of all existing cards, and they are still not requiring replacement, just encouraging you to update your cards. With identity theft being what it is, this makes sense. You can get new cards at the 180th Tac Fighter Wing Pass and ID Office in Toledo. Call them for information at 419-868-4016. If you prefer you can also get new cards at the ANG base in Mansfield.
AGENT ORANGE CONTAMINATED AIRCRAFT IN CONUS
Recent charges have been made by retired and separated Air Force veterans that the Air Force knew, at least since 1994, of Agent Orange contamination aboard C-123 Provider aircraft flown at Westover AFB Massachusetts and at other bases but never warned aircrew and maintenance personnel of the health risks.
Several former members of the Air Force Reserve who were crewmates in the 74th Aeromedical Evacuation Squadron are being treated for prostate cancer and other conditions linked to Agent Orange. One of the individuals making complaints was dumbfounded when he began checking and found that the first five crewmen he called had prostate cancer or heart disease. The sixth man he tried had died. Since then, he and friends have found dozens more former Westover reservists who are sick – with prostate cancer, diabetes, heart disease, peripheral neuropathy and other illnesses connected to exposure to Agent Orange [AO]. In just a few months, they have compiled a list of close to 40 of their fellow pilots, medical technicians, maintenance workers and flight engineers who are sick or have died of such illnesses, many of them from Connecticut and Massachusetts.
Among the documents the veterans cite is a 1994 Air Force report that found one of the airplanes, known as " Patches", was heavily contaminated with dioxins. Tests on other planes showed similar contamination. In a 2000 legal brief, the General Services Administration argued that the proposed sale of C-123s to a private buyer should be cancelled, stating the planes were extremely hazardous and their release would carry the risk of dioxin contamination to the general public. In a 1996 internal memo, an official in the Air Force Office of the Staff Judge Advocate, Directorate of Environmental Law, had expressed similar concerns about the possibly contaminated aircraft being sold to third parties, but said "I do not believe we should alert anyone outside of official channels of this potential problem until we fully determine its extent".
So far, attempts by Westover reservists to claim veterans' benefits linked to Agent Orange exposure on C-123s have been fruitless. Records show that some C-123 planes were held in quarantine storage in recent years, and then disposed of by shredding and smelting in 2010. In June 2009, an Agent Orange consultant to the Secretary of Defense had lobbied for the immediate destruction of the planes, in part to avoid attracting media attention to the health claims of stateside veterans.
Obviously, the government is concerned that a whole new class of veterans may claim that their exposure was due to the fact they were members of aircrews or mechanics associated with the contaminated aircraft that returned from Vietnam, a potential problem identified by the government consultant who advocated immediate destruction and total annihilation of all aircraft wreckage. Work crews who prepared one specific C-123 for display in a museum were instructed in a 1994 memo to wear hazardous material suits and respirators but former aircrews, who had flown the aircraft up to that time, had never gotten any such advisories. Former crewmembers from the unit at Westover recall the strange chemical smell of the C-123s and the stinging in their eyes and mouths – which according to those crewmembers, they noticed only on the C-123's.
HOT TOPICS
DIRECT DEPOSIT IS MANDATORY NO MORE PAPER CHECKS WILL BE ISSUED! when filing claims for compensation or pension be sure to have your account information available or bring a VOID check with you.
Claims Followup - VA does not send our office copies - call us when you hear from them!!!!!!!!!!
Check our transportation page - PLEASE schedule your VA appointments according to our van schedule if you plan to use the van! And, please call our transportation number - 419 443 7949 to schedule.
We ask that you call ahead and schedule an appointment if possible - we will handle walk-ins as much as possible but it is better for all concerned if we can schedule an appointment. It will probably save you an extra trip!
When you call our office - you will often get our voice mail. We do not answer phone calls when we are working with a claimant. Please understand that we are giving our clients our total attention for the time needed to work their claims. We will do the same for you when you come into our office. So, when you get the voice mail, leave us a mesage with your phone number and you will get called back, usually the same day.